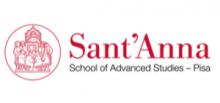 Sant'Anna School of Advanced Studies was set up in 1987. It is a public university institute - with special autonomy - working in the field of applied sciences: Economics and Management, Law, Political Sciences, Agricultural Sciences and Plant Biotechnology, Medicine, and Industrial and Information Engineering. The School promotes the internationalization of didactics and research with innovative paths in the fields of university education, scientific research and advanced training.
The Management and Healthcare Laboratory (MeS Laboratory - Laboratorio MeS), established in December 2004, carries out:
Research to support the performers of the health care system through the management processes and the innovation of health and social care;
Performance evaluation to measure the capacity of the regional health system, of the health authorities and the district areas to be effective and efficient, in delivering appropriate services in line with the needs of the population;
Management training for top management and for the key figures of the regional health systems, with special regard to the Tuscan System as the Lab represents the accredited subject for the training of top management.
The Lab mission is to develop the managerial sciences in order in support of public health by:
enhancing its founding logics;
developing and sharing knowledge;
building organizational and management innovation to improve citizens health.
 
Management and Healthcare Laboratory Website: https://www.santannapisa.it/en/institute/management/mes-management-e-sanita
---
Prof. Chiara Seghieri
Professor of "Social Statistics"
Local Unit Coordinator
E: chiara.seghieri@santannapisa.it
---
Nicola Belle
Assistant Professor in Behavioral management
E: nicola.belle@santannapisa.it
---
Gaia Bertarelli
Assistant Professor in Social Statistics
E: gaia.bertarelli@santannapisa.it
---
Paola Cantarelli
Assistant Professor in Human resources management
E: paola.cantarelli@santannapisa.it
---
Francesca Ferrè
Assistant Professor in Healthcare management
E: francesca.ferre@santannapisa.it
---
Anna Noci
Post-doctoral fellow in economics
E: anna.noci@santannapisa.it
---
Prof. Sabina Nuti
Rector of Sant'Anna School of Advanced Studies
Full Professor of Management
E: rettrice@santannapisa.it
---
Prof. Milena Vanieri
Professor of Management
E: milena.vainieri@santannapisa.it
Website