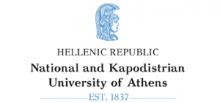 The National and Kapodistrian University of Athens (NKUA), founded in 1837, is the oldest higher education institution of the modern Greek state and the first university in the Balkan and Eastern Mediterranean area. It is a public, self-governed legal entity, under the auspices of the Ministry of Education, Research and Religious Affairs. It is a learner-focused and research-oriented public university, covering a wide spectrum of scientific fields. Its vision is to promote excellence in education and innovation in research, scholarly and other creative endeavours and also to be actively involved with local, national and global communities. It comprises 8 Schools (Health Sciences; Theology; Law; Economics and Political Sciences; Philosophy; Sciences; Education, Physical Education; and Sport Science), 33 Departments (issuing 33 bachelor and 136 post-graduate programs), 5 University Research Institutes, 210 University Laboratories, and 8 Libraries. It employs >3,190 faculty and administrative staff and teaches >39,000 undergraduate students, >11,000 graduate (Masters degree) students, > 14,000 PhD students and >5,000 international students. The NKUA is ranked very high among the world universities (No 1 in Greece and No 245 in the Ranking Web of Universities) in 2020. The School of Medicine (https://school-en.med.uoa.gr) is part of the School of Health Sciences and comprises 60 Departments. The Diabetes Center of the "Laikon" General Hospital, within the First Department of Propaedeutic Internal Medicine is staffed by Faculty of Medicine and has large experience in treating patients with diabetes mellitus and studying and investigating all aspects of diabetes prevention and treatment in the adult population. The Hypertension Center (HC) STRIDE-7, of the Third Department of Medicine at Sotiria Hospital was founded in 1992 by the European Economic Community STRIDE (Science and Technology for Regional Innovation and Development in Europe) initiative, aiming to develop research infrastructure facilities. the last two decades the HC STRIDE-7 has been involved in multiple activities, including education, clinical services and clinical research. It is a leading center in blood pressure monitoring research with strong international influence on current strategies for clinical hypertension research and practice. It has been recognized by the European Society of Hypertension as a 'Hypertension Excellence Center'. Its clinical research program generated about 350 PubMed publications. More than 40 doctors have been trained in the HC STRIDE-7 for 1-2 years and more than 25 PhD theses have been completed within the context of its research activities.
---
Prof. Konstantinos Makrilakis
Prof. Konstantinos Makrilakis (male) is Professor of Internal Medicine-Metabolic Diseases in the National and Kapodistrian University of Athens Medical School and faculty of the Diabetes Center in the "Laikon" General Hospital, Athens, Greece. He has large experience in designing and assessing epidemiological and interventional studies in the field of diabetes and cardiovascular diseases. He has co-authored more than 70 scientific papers published in international scientific journals with more than 4.500 citations (h-index 28). He is a member of the writing committee of the Greek guidelines for diabetes management since 2014 and has served in the Board of the International Diabetes Federation-European sector. Since 2004 he is actively involved in many National and European research programs for the prevention of diabetes in the community (DEPLAN, Manage Care, Feel4Diabetes, ePredice, Image), whereby a strong alliance with many clinical European centers in >15 countries has been developed.
---
Dr. Stavros Liatis
Dr. Stavros Liatis (male) is Internist and Senior Registrar of the Diabetes Center in the "Laikon" General Hospital, Athens, Greece. In his career, Dr Liatis has participated as principal investigator and co-investigator in several epidemiological and clinical studies and his main interest focuses on clinical diabetes epidemiology. He has published more than 70 papers in peer reviewed journals in the field of Diabetes and is a co-author in several textbooks in that field. He is a member of the writing committee of the Greek guidelines for diabetes management since 2014. Dr Liatis served as chair of the steering committee of the European Diabetes Epidemiology Study group of the EASD from 2016-2018. He is a member of the EASD since 2004. He is a reviewer in several peer review journals and section editor in Epidemiology in BMC Endocrine Disorders since 2015. He has had large clinical and research experience in the field of diabetes and obesity.
---
Dr. George Karamanakos
Dr. George Karamanakos (male) is an Internist working in the Diabetes Center in "Laikon" General Hospital, Athens, Greece. He holds a Master of Research in Translational Medicine from Imperial College London and is a PhD candidate at the Medical School of the National and Kapodistrian University of Athens. He has participated as an investigator in several clinical trials of diverse topics, such as Hepatocellular Carcinoma, Diabetes and Myeloma Multiplex.
---
Dr. Chrysi Koliaki
Dr. Chrysi Koliaki (female) is Resident in Internal Medicine and Research Associate of the First Department of Propaedeutic Internal Medicine and Diabetes Center of "Laikon" General Hospital in Athens. Her research interests include insulin resistance, obesity, cardiometabolic risk factors, metabolic surgery, gut hormones, mitochondrial function and non-alcoholic fatty liver disease (NAFLD). As a post-doctoral researcher, she was trained for 3 years in German Diabetes Center, Leibniz Institute of Clinical Diabetology, Duesseldorf, Germany. During this time, she participated in the German Diabetes Study (GDS), a large-scale nationwide prospective epidemiological study on patients with recent onset type 2 diabetes mellitus (T2DM), and she was the principal investigator of several studies addressing the role of mitochondrial function in states of insulin resistance such as obesity, T2DM and NAFLD. In 2017, she was awarded the Best Young Investigator's Prize by the Mediterranean Group for the Study of Diabetes (MGSD). She is an active member of the European (EASD) and the Central European Diabetes Association (CEDA). She has co-authored 40 papers published in high impact international scientific journals, being the first author in 20 of them. She has considerable experience in clinical studies, data analysis and interpretation and scientific writing.
---
Prof. George Stergiou
Prof. George Stergiou (male) is Professor of Medicine & Hypertension. Chairman, Hypertension Center STRIDE-7 (European Union), School of Medicine, Athens University (European Society of Hypertension [ESH] Excellence Centre). Chairman, STRIDE BP International Organization on Blood Pressure (BP) Measurement Methodology and Technology (www.stridebp.org). International Society of Hypertension Council member. Chairman, ESH Working Group on BP Monitoring and Cardiovascular Variability. World Hypertension League Special Envoy for BP Measurement. International Pediatric Hypertension Association Executive Committee member. International Standardization Organization committee member on BP monitoring equipment. Elected Fellow Royal College of Physicians (FRCP), Glasgow, UK. Editorial board member (PubMed): 11 journals; Reviewer: 56 journals. Research on BP monitoring methodology and technology, pediatric hypertension, antihypertensive drug action, hypertension epidemiology. Authored >300 PubMed articles; Supervised 25 MD theses; h-index 64; Citations >24,000.
---
Dr Anastasios Kollias
Dr Anastasios Kollias (mle) is Internist Consultant, Hypertension Center STRIDE-7, Third University Department of Medicine, Sotiria Hospital, Athens, Greece. European Society of Hypertension Clinical Hypertension Specialist. PhD Thesis on the association of glucose transport and adiponectin receptor expression with metabolism, cytokine production, insulin resistance and atherosclerosis. Research interests: Blood pressure measurement methodology and technology development; Hypertension diagnostics; Pathophysiology of insulin resistance in diabetes; Adiponectin in diabetes and coronary heart disease; Obesity; Preclinical cardiovascular target organ damage; pediatric hypertension. Reviewer in >20 PubMed journals; PubMed publications 107; Citations 3,700; h-index 31; 4 scholarships in medicine; 7 clinical research awards.
Website