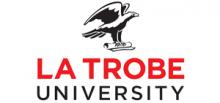 For more than 50 years, La Trobe University has been transforming people and societies and has earned a global reputation for research that addresses the major issues of our time. With a dual emphasis on excellence and diversity, La Trobe has seven campuses across Victoria and New South Wales. Through innovations in teaching and learning, strong graduate employment outcomes and commitment to quality and breakthrough research, La Trobe consistently rates among Australia's and the world's best. 
---
George Moschonis, APD, MSc, PhD, 
Associate Professor, Dietetics and Human Nutrition
Department of Rehabilitation, Nutrition and Sport, College of Science, Health and Engineering,
La Trobe University, Bundoora VIC 3086, Melbourne, Australia.
T: +61 3 9479 3482 | E-mail: g.moschonis@latrobe.edu.au | W: latrobe.edu.au
Dr. George Moschonis is an Associate Professor of Dietetics and Human Nutrition at La Trobe University in Melbourne, Australia. George is the head of the Laboratory of "Nutritional Epidemiology and Personalised Nutrition" in the Discipline of Human Nutrition and Dietetics and is in charge of the relevant research team that comprises postdoctoral and PhD researchers as well as Masters and Honours students. His main research interests are the identification of determinants or predictors of obesity and obesity related cardio-metabolic complications and the design, implementation, and evaluation of the effectiveness of personalised nutrition and lifestyle optimization intervention programs, which aim to tackle obesity and related co-morbidities (i.e., type 2 diabetes, cardiovascular disease etc.) in children and adults. In the DigiCare4You project, Dr. George Moschonis and his research group are leading Task 2.4 ("Knowledge synthesis to identify evidence on mHealth and community-based interventions for the prevention and management of T2D and HTN") and contributes with his expertise in WP5, WP6 and WP9. 
---
George Siopis
Research Associate
Researcher in epidemiology, obesity, type 2 diabetes, COVID-19; with focus on the optimisation of lifestyle interventions for the prevention and treatment of NCDs and for risk-reduction of adverse outcomes of communicable diseases
Website