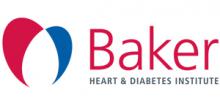 Baker Heart and Diabetes Institute is an internationally renowned medical research facility based in Melbourne. For more than 93 years, the Institute has been focused on research dedicated to the prediction, prevention and treatment of cardiovascular disease, diabetes and their related disorders. That focus continues today but medicine is changing and so too the way we go about targeting disease and improving health outcomes. 
Our mission is to reduce death and disability from cardiovascular disease, diabetes and other related health disorders. We want to help Australians live healthier for longer. 
Our research agenda is directed by the Institute's major scientific goals, going beyond government funded projects to provide support for researchers as they undertake curiosity-driven science in both basic research and population health studies. The outputs from this approach have provided some of the most significant scientific breakthroughs in history including identifying the two types of diabetes and establishing open heart surgery in Australia. 
The Institute comprises 360 staff including scientists, health professionals, students, and volunteers, with office space, laboratory, and communal laboratory space for tissue culture, molecular biology and cold storage. Institute wide facilities at Baker are world class, with flow cytometer (7+ colours, 13+ colours), imaging (confocal, live cell) and general equipment (ultracentrifuges, bioplex, plate readers etc.). There is also excellent support for epidemiologic, health services and public health research. These excellent research facilities and resources will allow me to pursue a research project that is highly competitive, innovative and at the forefront of international research in the field of mhealth.
---
Brian Oldenburg
Professor, M.Psychol, PhD 
He is a clinical psychologist, chronic disease epidemiology and public health interventionist whose research has aimed to improve mental health and chronic disease outcomes in vulnerable and disadvantaged populations in Australia and other countries for more than 25 years. He brings to this team his world class expertise in: (1) culturally adapting, implementing and evaluating 'real world' interventions for defined populations in different community settings and countries; (2) implementation science methods to evaluate, improve and scale-up effective interventions; and (3) designing, implementing and evaluating digital health solutions to improve the mental, social and physical health of vulnerable and disadvantaged populations. He has published more than 300 peer reviewed publications (>90 in last 5 years) and he has had significant publications in top ranking journals in fields of public health, clinical medicine, epidemiology and digital health. Oldenburg's research program has undertaken numerous implementation trials in recent years in different countries - including Finland - each of which has been designed to maximise the utility and uptake of research findings for policy and research. Currently, he directs a research centre in digital health technology (National Research Centre in Digital Technology to Improve Chronic Disease Outcomes) and a NHMRC Partnership Grant which involves a randomised trial to evaluate the scalability of an automated telehealth intervention to improve mental and physical health outcomes of people with diabetes; it involves extensive collaboration between government, non-government, industry and consumer organisations. The virtual avatar program he has developed, My Diabetes Coach, is now also being adapted for uptake in other settings and countries. He leads a research program funded by NHMRC and US NIH (ASCEND Program) to improve diabetes in India, called the Kerala Diabetes Prevention Program. This has been recently further funded for another 5 years. This is one of the world's first randomised trials of a lifestyle intervention program to demonstrate reduced diabetes incidence in a prediabetes population in a developing country. Funded by the World Diabetes Foundation, the program has also been taken to scale in 25,000 villages in Southern India – with more than 250,000 program participants - with support from government as well as one of India's largest community-based NGOs (called the Kudumbashree State Mission). This rollout also incorporates a technology platform – including  tailored text messaging - for both program delivery and data collection from 25,000 peer group leaders and program participants. Dr Oldenburg is also the co-lead on many other research projects in India and South Africa.
Website